Product Overview

- Purifies air with ultraviolet technology
- Kills mold and mold odor
- Removes smoke & other strong odors
- Destroys harmful bacteria, mold and viruses in the air
- Units may be mounted on a wall or are available for portable use
- Washable Electrostatic particulate filters
- Disposable filters available for most models

Download a copy Blaze UV Ozone Generator


Features

Ultraviolet Germicidal Ozone Producing Lamps provide the utmost in
quality, sustained high output and long life.
Lampholders are spring loaded telescopic type that facilitate convenient,
easy lamp change that is quick and hassle-free.
Interlock Safety Switch The interlock safety switch is a standard feature
that disconnects power to the unit when the access panel is removed for
lamp or filter replacement.
Standard Wall Mount Kit Consists of (2) pre-drilled stainless steel
brackets. Brackets enable unit to be mounted to wall in either the vertical or
horizontal position.
Louvered Exhaust Panel Protects the room's occupants from ultraviolet
exposure by restricting ultraviolet radiation from passing into the room.
Generator should be used in unoccupied area.
Observation Port(s) A visible glow through the clear sight glass provides
positive indication of germicidal lamp operation.
Stainless Steel Construction The chamber is Type 304 stainless steel for
an attractive finish, unparalleled strength and durability.
Particulate Filter - Washable Electrostatic Filter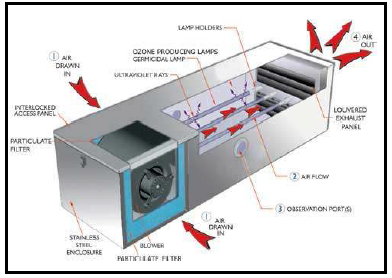 Principal Of Operation

(1) Air is drawn into unit through washable electrostatic particulate filters
(2) Air is forced into ultraviolet exposure chamber where it is irradiated by germicidal ultraviolet light (lamp quantity varies per model).
(3) Observation port provides positive indication of germicidal lamp operation.
(4) Purified air and ozone leaves exposure chamber through the louvered exhaust panel (which restricts ultraviolet radiation from passing into the room).

Commercial Models